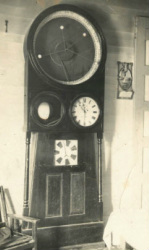 "Based on conversations I've overheard in darkened microfilm reading rooms ...it seems that many of us are inspired to explore our family histories at least in part due to stories heard from grandparents and great-grandparents. A typical lament goes something like this: "You know, my grandmother told me all these things when I was a kid, but I didn't care about it then. If only I had l listened more closely."

Suppose for a moment that you could indeed recover those stories. Suppose you could hear those voices again. Wouldn't it have been unbelievably good fortune if one of those conversations had been recorded and you could listen to it now? Why not make that dream come true for your family?" Let's do an oral history of your family this holiday season!

-- Oral Histories Part 1 by Roseann R. Hogan, Ph.D.
ANCESTRY MAGAZINE. July 1995.


---
HIGH QUALITY CUSTOM RESEARCH BY EXPERIENCED PROFESSIONALSWe are professional genealogists with decades of experience solving difficult and hard to find ancestors. Family genealogy is our passion. Our focus is on quality family histories and getting answers you seek, NOT template reports managed by an expensive intermediary but conducted by lesser experienced researchers. Our rates are HALF those quoted by corporate organizations.Client satisfaction and results are our focus and that's reflected in our extremely high repeat business and client referrals. We build relationships that last. Your priorities determine the process. Budgets are adhered to. Promises are kept. Deadlines are met. Communication lines are always open. Flexibility to roll with the inevitable twists and turns that happen in all of our families histories is critical. We have a high level of success even the most challenging ancestors.

Our researchers have been active for decades through through contributions in professional and popular publications such as

Assocation for Professional Genealogists Quarterly, Ancestry.com, Ancestry's Research Cornerstones

magazine and

other scholarly, historical, and juried publications. We research your family history with the same rigor, enthusiasm, and tenacity as we do our own.Let us help you solve your difficult genealogy research problems.

Let's get started .

.. with access to major archives including the famous

Family History Library in Salt Lake City,

other national, state, and federal archives coupled with a diverse team of researchers who have helped clients across

all the United States

from

early colonials to modern heir searches, your research will start almost immediately, not in weeks or months. S

pecializations include the mid-west and Atlantic and Pacific seaboard states. Specific areas of expertise include:

Kentucky/Virginia, Ohio, Illinois, Texas, Tennessee, New York, and California Eu

ropean expertise includes onsite work and

language competency

in and knowledge of records in

Germany, Italy, France, Ireland, Great Britain, Czech Republic

. We have also worked extensively in

Catholic and Jewish

records.

Dr. Hogan is a

pioneer in African-American family research,

presenting at conferences and publishing some of the earliest how-to

articles for Ancestry as well as the PBS series

on researching formerly enslaved families before and after emancipation.

who do you think you are

---